There are probably a lot of people on this earth who will claim to have the best grandma in the world, but my cousins and I will make the claim with just a little more confidence than the rest, because we know we did. My grandma Elsie was the kind of grandmother every single child should be so fortunate to have.
She loved us. She spoiled us. She disciplined us (but only when it was necessary to save our very lives like the time she spanked me with two fingers because I wouldn't stop messing with the glass jars — then she teared up like she had just had me drawn and quartered). She made each and every one of her grandchildren feel like her favorite.
Eight years ago today, surrounded by her sister, daughters, grandchildren, great grandchildren, in-laws, and the nurses who had cared for her, she passed away. She entered into her eternal home on Good Friday in 2009. I have to believe that a Good Friday induction into Heaven is an honor reserved for only a select few — those who served God and their fellow man to a higher degree than most.
For most of my childhood, we lived in Indiana and she in Illinois. I used to lament the, "miles and miles and hours and hours" it took to get to Grandma and Grandpa Minder's house, but on those special weekends we visited, we knew that when we finally arrived, she would greet us with cold Dr. Pepper served in Tupperware cups (like those pictured) and a look of relief that her prayers for our safe travel had been answered. She always had Dr. Pepper in her, "icebox." I loved how she called the refrigerator, "the icebox."
Weekends at her house were filled with wonderful cooking — waffles for my dad, her, "favorite son-in-law from Indiana," a big baked ham for my brother, her, "favorite grandson from Indiana," her famous sausage gravy for my sister, "her favorite granddaughter with long brown hair from Indiana," and homemade macaroni and cheese for me, her, "favorite first granddaughter" and her, "little ladybug."
Her Little Ladybug
You see, for as long as I can remember, she called me that. I don't know how it started or why, but it was our thing. She would send me things with ladybugs on them. When she sent me birthday cards, I would look for the ladybug on it — and usually find it. As I was growing up and to this very day, I can't see a ladybug without thinking of my dear, sweet Grandma Minder. On her 80th birthday, I gave her a ladybug necklace — today, I have it and I wear it on the days that she is really on my mind. I wear it a lot.
Oh, I also think of her when I see strawberries because once, when I was a young girl, I received a package from Grandma Minder. Inside among other goodies and trinkets were some magnets in the shape of strawberries. I was somewhat confused by this until my mom explained, "I think she thought they were ladybugs."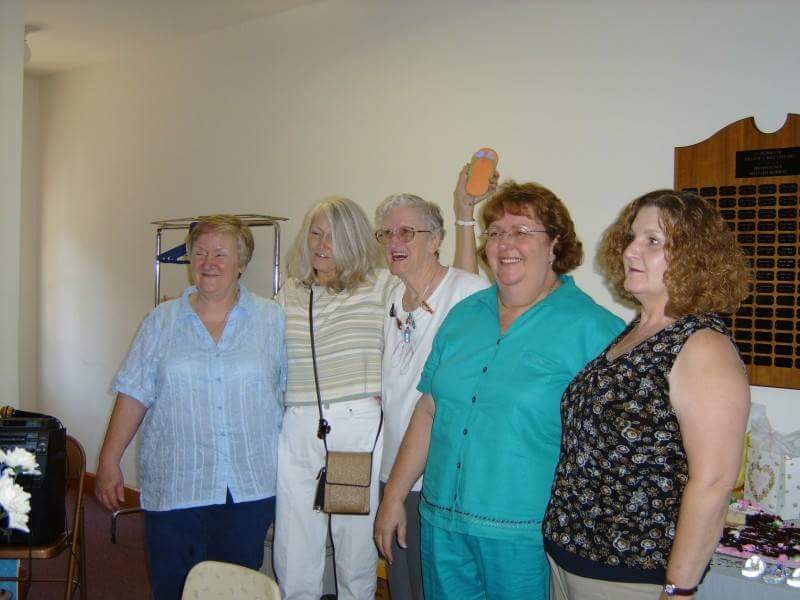 Beware of Women Packing Thongs
With all there was to love about Grandma Minder (and there was a lot), there was also a lot to poke fun at, which only endeared her to us more. She was teased mercilessly about how thongs (flip-flops) were a weapon in her hands — she had swatted each of her four girls growing up with a thong on several occasions. It was a handy tool of discipline and fly-swatting (she hated flies). She became so renowned for her ninja-thong-skills that for her 80th birthday celebration, the theme was thongs. Later in life, she did begin reluctantly calling them "flip-flops" as she didn't want anyone to be confused as to which kind of "thong" she meant.
She Loved to Sew
We also teased her about her sewing habit. Not just a hobby — a habit. She had entire rooms in her home dedicated to sewing and fabric. I fondly recall hours sewing dresses and curtains with her. Before she passed away, she left a sewing machine and serger to each of her daughters. Going through her things after she went to be with Jesus, I gathered BAGS of fabric which I donated to the Heaven's Handiwork group at my church, a group of ladies who make beautiful quilts for babies. Years later, this same group of ladies would bless little Donnie, one of Grandma Minder's great grandsons with a beautiful quilt when he was battling cancer and enduring chemotherapy. Grandma's gift came full circle, years after she was gone.
She had a flair for picking some pretty crazy fabrics. Reversible? Furry? Corduroy? She could make something of it. She wasn't limited by society's rules about mixing color or pattern. She marched to the beat of her own drummer. And she marched in thongs. Sorry — I mean flip-flops.
More Memories of my Grandma
She loved to craft, especially handmade Christmas ornaments. I still cherish a box of her creations. If I'm honest, some of her masterpieces look like a Pinterest fail, but she used what she had and to me, they are beautiful because they have her heart in them. Some of my favorite are those with an all-American, patriotic color scheme. Those she made the year we celebrated Christmas in July. Two of our numbers were serving in the military that year and she declared that we would celebrate Christmas when everyone could be together. She decorated her mobile home with Christmas decorations, wrapped gifts, and somehow managed to make it feel like Christmas. She wasn't limited by the calendar.
Ever the bargain hunter, she LOVED a good thrift store or "rummage sale." I think of her every time I pass one, and I honor her when I stop at one. I probably make her giddy with glee when I score a great bargain.
She loved Dairy Queen — especially Dairy Queen cakes. I had my first Dairy Queen Blizzard in Greenville, IL when we were visiting her one year. They were so new and I didn't really know what I was ordering, so when the clerk asked me what flavor I wanted, I said, "chocolate, I guess?" Needless to say, I wasn't really that impressed my first Blizzard, but I grew to love them. So, our family thinks of Grandma Minder every time we visit Dairy Queen or when we get a Dairy Queen cake for a get-together. We think of her a lot.
She eloped! A young girl of just 16, she entered a 42-year marriage as she eloped with my Grandpa Archie. For whatever reason, that's one of my favorite things about her — she was unconventional, and maybe just a little wild. And as if that were not scandalous enough, she and my grandpa then hitchhiked across the country to where he was to report for service in the army.
At Grandma Minder's house, I fell in love with the Reader's Digest. Whenever we visited her, I would sit and read through the stacks of issues she had collected over the years, skipping to my favorite parts — "Life in These United States," "Laughter, the Best Medicine," "Humor in Uniform," (are you seeing a pattern?)
She loved my corn pudding, but could never remember how to make it. I really think she just wanted to make me feel special by calling me every time she made it — asking for the directions, or by doting on it when I would bring it for Easter or Thanksgiving dinner.
She was a licensed practical nurse for many years and I am sure her patients received the best care possible because everything she did was done with excellence and an uncommon work ethic.
My Grandma Minder was a tall, strong women with a gentle disposition. I have no idea of the things she undoubtedly suffered in her 82 years on this earth. I only know she must have endured a lot because she lived through the Great Depression, a husband away at war, poverty (of the material kind, only), and laying to rest her husband of over 40 years just a few days after Christmas in 1984. I am sure she suffered greatly, but she never complained, never spoke of the bad things. She counted her blessings and kept a positive outlook and a smile on her face.
My Mornings with Grandma
On those special weekends at Grandma's house, mom and dad would usually sleep in a bit Saturday morning, exhausted from the trip. I never managed to get up before Grandma (I'm not even sure she slept), but I would always find her in the kitchen playing Solitaire at the table (or as she called it, "Solve") and sipping her coffee. Grandma made her coffee so weak that we loved to tease her by asking if she had forgotten to put anything in the filter. She would make me a cup of coffee. And by, "coffee," I mean some milk, lots of sugar (dispensed from the Tupperware sugar cup, pictured), and just enough coffee to knock the "white" off it. We'd sit together, drink coffee, and visit. I loved to look at her mother's ring — I would point to each of the four stones and she would tell me which of her four girls it represented, along with a little anecdote about each.
Before she passed, for years I had thought about telling her that I would love to have that ring when she was gone, but couldn't bring myself to ask that of the woman who gave everything. It seemed that to bring it up was to accept that I wouldn't have her in my life forever. I knew that if I didn't though, I would never forgive myself, so one night, I said, "Grandma — you have four daughters and one mother's ring. I think you should give it to me." I told her how special those mornings were to my childhood and she gave me the ring that very night. I still cherish it.
She Prayed Hard and Loved Deeply
One thing I never doubted was my grandma's prayers for me. If every kid had someone praying for him like my grandma did each of her grandkids, I'm quite sure this world would be a different place. To know that kind of unconditional love is to know security. That gift was the greatest inheritance any of us could have received. When we hurt, she hurt. When we were blessed, she was blessed. When we succeeded, she was proud. When we messed up, she still loved us.
The day after she passed, somehow, I managed to have several hours to myself in her home. I was charged with the task of sorting through the hundreds of thousands of pictures to find those that best paid tribute to her to use in her service. As I looked through boxes and files, I found so many articles she had cut out about each of her family members. I found an article about my pee-wee softball team, the church bulletin from the day I was baptized, my high school graduation program, my daughter's birth announcement (her first great granddaughter), a poem I had written her when I was a child, and on an on. I always knew she loved me, but at that very moment, I was struck with the full weight of that love — it was astounding. I found similar piles for each of her beloved family members.
Can't Wait to See Her Again Someday
It's been eight years today since she passed on Good Friday. Two days after that, the whole family was in church celebrating Easter and I looked down on the floor and what did I see? A ladybug — no kidding. It stayed right there the whole service.
I would give just about anything to have one more cup of weak coffee with her. To have one more phone call with her. To sew one more reversible, corduroy vest with her. To tell her once more how to make my corn pudding. To hear her raspy, old lady voice sing, "How Great Thou Art" in church just one more time. To introduce her to the sweet great grandkids who have come since she passed — it pains me that they will not know her.
To hear her call me, "my little ladybug," just one more time.
But I wouldn't wish her back from her eternal reward for any of that. I wouldn't wish her back from being in heaven in Grandpa Archie. I wouldn't wish her back into her aged human body. Nope — she'd probably spank me with two fingers for that.
Instead, I will just look forward to the day that I join her there. I'll work hard, love deeply, and serve others in hopes that my house will even be in the same neighborhood as the big mansion she no doubt inhabits up there. She earned it.
Her children arise and call her blessed;
her husband also, and he praises her:
"Many women do noble things,
but you surpass them all."
Charm is deceptive, and beauty is fleeting;
but a woman who fears the Lord is to be praised.
Honor her for all that her hands have done,
and let her works bring her praise at the city gate.

Proverbs 31:28-31
Please share, follow, and like: